Did you know...before the arrival of Europeans there were about 700 separate communities, or political groups, which spoke about 250 languages?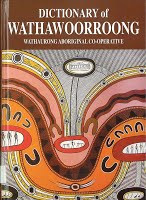 These languages derived from 26 distinct family-like groups which were as different from each other as Japanese and English.

Tragically nowadays, according to the National Indigenous Languages Survey Report 2005, only 18 languages are considered strong because they are spoken by people of all ages, and over 100 languages are endangered. Among the many reasons for the decline in Aboriginal languages was the fact that in many government reserves and missions children were separated from their parents at the age of five or six and were punished if they spoke anything but English.

The good news is that communities all over Australia are working hard to keep or reclaim their languages and the local Wathaurong people are no exception to this important work.

You may not realise that we often speak words from the Wathaurong, or Wadda Wurrung, language. For example:
Geelong is derived from Djllong which means tongue of land or peninsula
Kardinia, from Kardineeyoo, means sunrise
Moorabool means mussel
Moorrabil means the curlew
Connewarre means black swan
Corio, from Coraiyio, means sandy bay
Bellarine from Bella meaning elbow and Wein meaning fire.
Other examples of Wathaurong place names are:
You Yangs from Wadda Yawang
Moolap from Moolapio
Birregurra is Wathaurong for place of kangaroos
Provided by Uncle David Tournier